NEWS
2023.6.21
LIVE / EVENT
Sukima Switch, this year's Augusta Camp, which will be held to commemorate the 20th anniversary of its debut, will consist of three parts!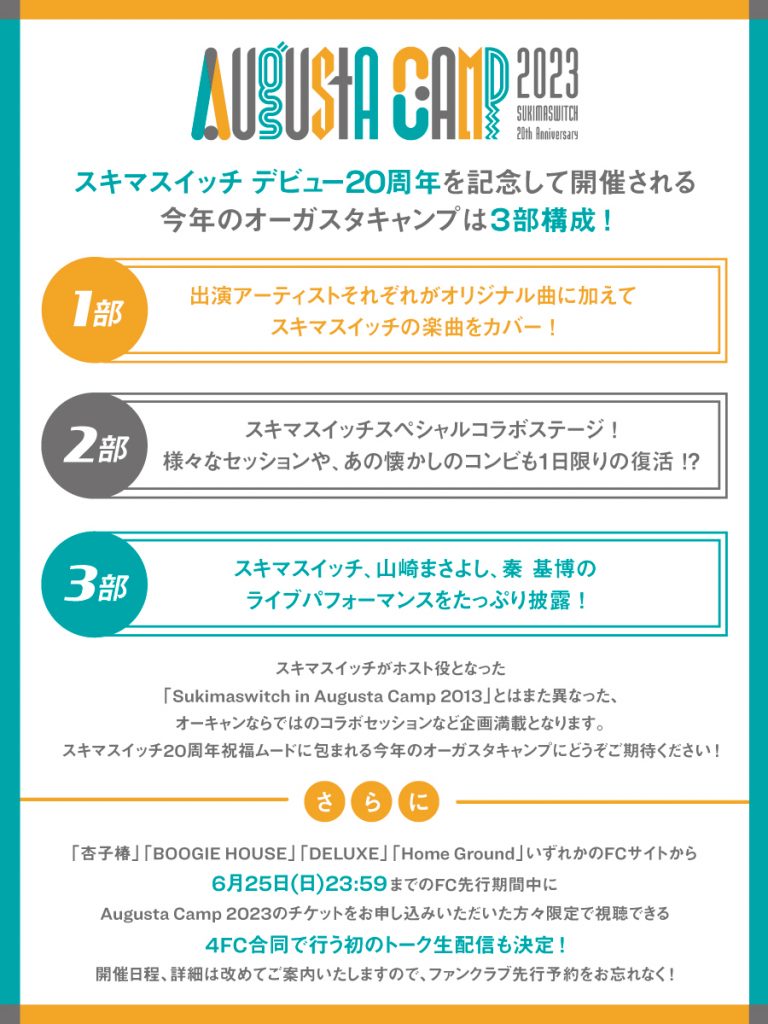 In the first part, each performing artist covers Sukima Switch's songs in addition to their original songs.
Part 2 is a special collaboration stage with Sukima Switch!Various sessions and that nostalgic combination will be revived for one day? !
In the third part, live performances by Sukima Switch, Masayoshi Yamazaki, and Motohiro Hata will be shown!
Different from the 2013 "Sukimaswitch in Augusta Camp 2013" hosted by Sukimaswitch,
It will be full of projects such as collaboration sessions unique to Ocan.
Please look forward to this year's Augusta Camp, which will be wrapped in the celebration mood of the 20th anniversary of Sukima Switch!
Furthermore, from any FC site of "Kyoko Tsubaki", "BOOGIE HOUSE", "DELUXE", "Home Ground"
Only those who have applied for tickets for Augusta Camp 6 during the FC advance period until 25:23 on Sunday, June 59 can watch it.
The first talk live distribution to be performed jointly by 4 FC is also decided!
The schedule and details will be announced later, so don't forget to pre-order your fan club!
▼ Click here for ticket details
https://www.office-augusta.com/ac2023/ticket.html