NEWS
2023.7.28
LIVE / EVENT
"SUKIMASWITCH produce Augusta Camp 2023 eve" will be held!Accommodation plans with eve tickets are also on sale! !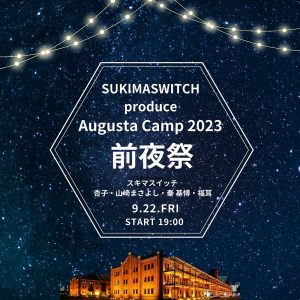 "SUKIMASWITCH produce Augusta Camp 2023 eve" will be held!
Accommodation plans with eve tickets are also on sale! !
Prior to the main performance on September 9rd (Saturday), an eve will be held on September 23nd (Friday) the day before!
Unlike the annual eve, which shows part of the rehearsal the day before,
This year, Kyoko, Masayoshi Yamazaki, Sukima Switch, Motohiro Hata, and Fukumimi will give a live performance just like "Petit Augusta Camp" under the production of Sukima Switch, which celebrated its 20th anniversary.
Together with the main performance the next day, it will definitely be a special weekend celebrating the 20th anniversary of Sukima Switch! !
In addition, a hotel near the venue will sell accommodation plans with tickets for the eve of the event!
From September 9nd (Friday), a one-night stay, eve ticket, and novelty goods are set, so it is a perfect plan for customers who want to enjoy the Augusta camp the next day without getting cold after the eve. .Please use all means! !
Event
Performance name: "SUKIMASWITCH produce Augusta Camp 2023 Eve Festival"
Date: September 2023, 9 (Friday) Open 22:18 / Start 00:19 (scheduled to end at 00:20)
●Venue: Yokohama Red Brick Park
-Performers: Sukima Switch, Kyoko, Masayoshi Yamazaki, Motohiro Hata, Fukumimi
●Ticket price: ¥4,500 tax included (all seats reserved) / 4 ticket limit
*Electronic ticket / paper ticket selection system
General ticket sales: Saturday, August 8
Augusta Park (outside area) will be open from 9:22 to 15:00 on Friday, September 21nd.
*Please note that only some booths will be open.
《Precautions for viewing the eve》
One person can enter with one ticket.
Please note that we cannot respond to reissues due to loss or other reasons.
* A separate fee will be charged in addition to the ticket fee.
* This ticket is required for elementary school students and above.
* Up to 1 preschool child can be seen on the knees per adult.However, please be careful not to disturb the people around you.
*All seats are reserved for this event.
*Not in order of reference number.
*Please note that those who forget the viewing ticket (electronic / paper ticket selection system) will not be able to enter.
TICKET
Official fan club advance: Reception period July 7th (Friday) 28:9 to August 00th (Sunday) 8:13
Kyoko Official Fan Club "Kyoko Tsubaki"
http://www.ankotsubaki.com/
Masayoshi Yamazaki Official Fan Club "BOOGIE HOUSE"
http://www.boogie-house.com/
Sukima Switch Official Fan Club "DELUXE"
http://www.sukima-de-luxe.com/
Motohiro Hata Official Fan Club "Home Ground"
https://www.home-ground.tv/
Augusta Mobile
http://sp.augusta-mobile.com/
Augusta Crew
https://www.fansnet.jp/augustacrew
* If you enroll within the period, you can apply for the ticket in advance.
Accommodation plan with eve ticket
■ Official fan club pre-sale: August 13 (Tuesday) noon to August 23 (Sunday) 59:XNUMX
General sale: August 8th (Sat)-September 19th (Wed)
●Plan contents
9 night stay for check-in on Friday, September 22, Augusta Camp eve ticket, original novelty goods
*Please note that tickets for the Augusta Camp 2023 performance are not included.
*First-come, first-served basis.As soon as the capacity is reached, sales may end before the general sale.
*Tickets for the eve of the festival will be handed over at the front desk of each hotel.
* You can apply for up to XNUMX people, including a member and XNUMX accompanying persons.
●Reservation method
Please apply from the dedicated plan of each hotel reservation site. (There is a telephone reception partly)
Target hotels and URLs for accepting reservations will be announced on each FC site on August 8st (Tuesday) and on the AC official site on August 1th (Saturday).