DISCOGRAPHY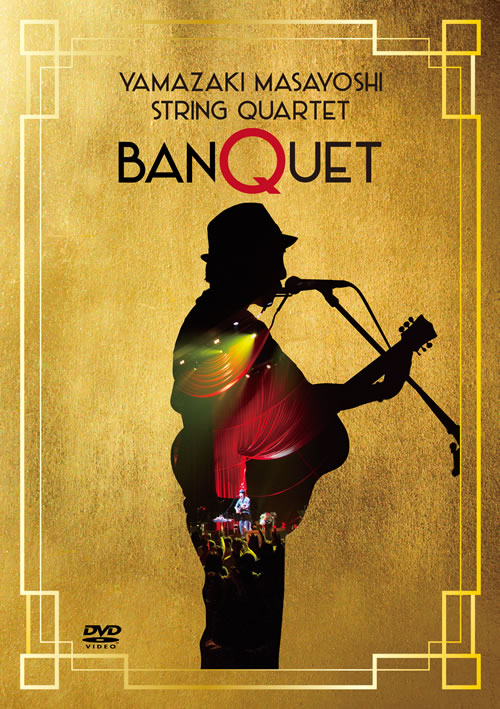 String Quartet "BANQUET" [DVD FC Limited Edition (Made to order)]
Released November 2019.07.24, XNUMX
7560yen(tax included)
DVD
An elegant supper by string quartet and Masayoshi Yamazaki.
The final performance of the BANQUET Tour, which was very popular,
Record a luxurious performance at the prestigious Orchard Hall!
<Product form>
[FC limited edition (complete build-to-order manufacturing)]
Blu-ray (PDXN-1909) ¥8,000 (excluding tax)
DVD (PDBN-1908) 7,000 yen (excluding tax)
-A special 72P special photo book that includes live photos of all the performances of BANQUET TOUR is included as an FC edition bonus!
・Special sleeve case (three sides)
【Normal Edition】
Blu-ray (UPXH-20080) 7,000 yen (excluding tax)
DVD (UPBH-20244/5) ¥6,000 (tax excluded)
December 2018, 12 (Wednesday) Bunkamura Orchard Hall Performance
Added supplementary audio commentary by Masayoshi Yamazaki and Takayuki Hattori!
Performers: Masayoshi Yamazaki (Vo, Gt & Pf), Koichiro Muroya (Violin), Aya Ito (Violin), Takahiro Enokido (Viola), Maki Horizawa (Cello)
Takayuki Hattori (Special Guest)
<Reservation acceptance>
[FC limited edition (complete build-to-order manufacturing)]
・FC limited edition will be purchased at UNIVERSAL MUSIC STORE.
・Member registration (free) is required for UNIVERSAL MUSIC STORE to purchase.
・The order acceptance period for FC limited editions is from 5:30 on Thursday, May 18th to 00:7 on Monday, July 1st.
・For those who purchase the FC limited edition, it is assumed that Masayoshi Yamazaki's official fan club "BOOGIE HOUSE" is a regular member and has received the order during the application period (until 2019:7, July 1, 23). Let's eat. Please note that those who join or continue to meet the deadline may not be able to receive the order.
Masayoshi Yamazaki Official Fan Club "BOOGIE HOUSE"
http://www.boogie-house.com
FC board acceptance period: Thursday, May 2019, 5 30:18 to Monday, July 00 7:1
【Normal Edition】
UNIVARSAL MUSIC STORE
・Blu-ray:https://store.universal-music.co.jp/product/upxh20080/
・DVD:https://store.universal-music.co.jp/product/upbh20244/