DISCOGRAPHY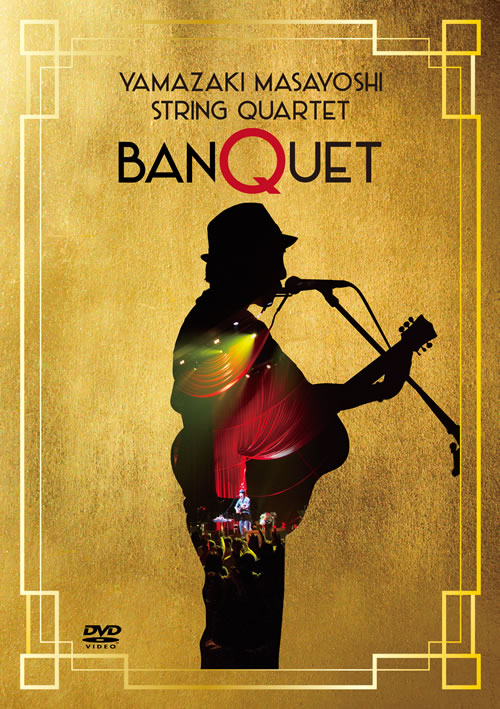 String Quartet "BANQUET" [DVD Normal Edition]
Released November 2019.07.24, XNUMX
6480yen(tax included)
DVD
1. illuminated by the moonlight
2. Minuet
3. Wish upon a star
4. Hydrangea
5. coins
6. Soft moon
7. Android
8. I am here
9. Swallow
10. Fireworks
11. Your name
12.One more time, One more chance
13. Water tank
14. Lost
15.Fat Mama
16. Domino
17. Celery
18. Haruo
19. Road
20. Stranger
21. Let's go home
22. A Li Ga To
An elegant supper by string quartet and Masayoshi Yamazaki.
The final performance of the BANQUET Tour, which was very popular,
Record a luxurious performance at the prestigious Orchard Hall!
<Product form>
[FC limited edition (complete build-to-order manufacturing)]
Blu-ray (PDXN-1909) ¥8,000 (excluding tax)
DVD (PDBN-1908) 7,000 yen (excluding tax)
-A special 72P special photo book that includes live photos of all the performances of BANQUET TOUR is included as an FC edition bonus!
・Special sleeve case (three sides)
【Normal Edition】
Blu-ray (UPXH-20080) 7,000 yen (excluding tax)
DVD (UPBH-20244/5) ¥6,000 (tax excluded)
December 2018, 12 (Wednesday) Bunkamura Orchard Hall Performance
Added supplementary audio commentary by Masayoshi Yamazaki and Takayuki Hattori!
Performers: Masayoshi Yamazaki (Vo, Gt & Pf), Koichiro Muroya (Violin), Aya Ito (Violin), Takahiro Enokido (Viola), Maki Horizawa (Cello)
Takayuki Hattori (Special Guest)
<Reservation acceptance>
【Normal Edition】
UNIVARSAL MUSIC STORE
・Blu-ray:https://store.universal-music.co.jp/product/upxh20080/
・DVD:https://store.universal-music.co.jp/product/upbh20244/