DISCOGRAPHY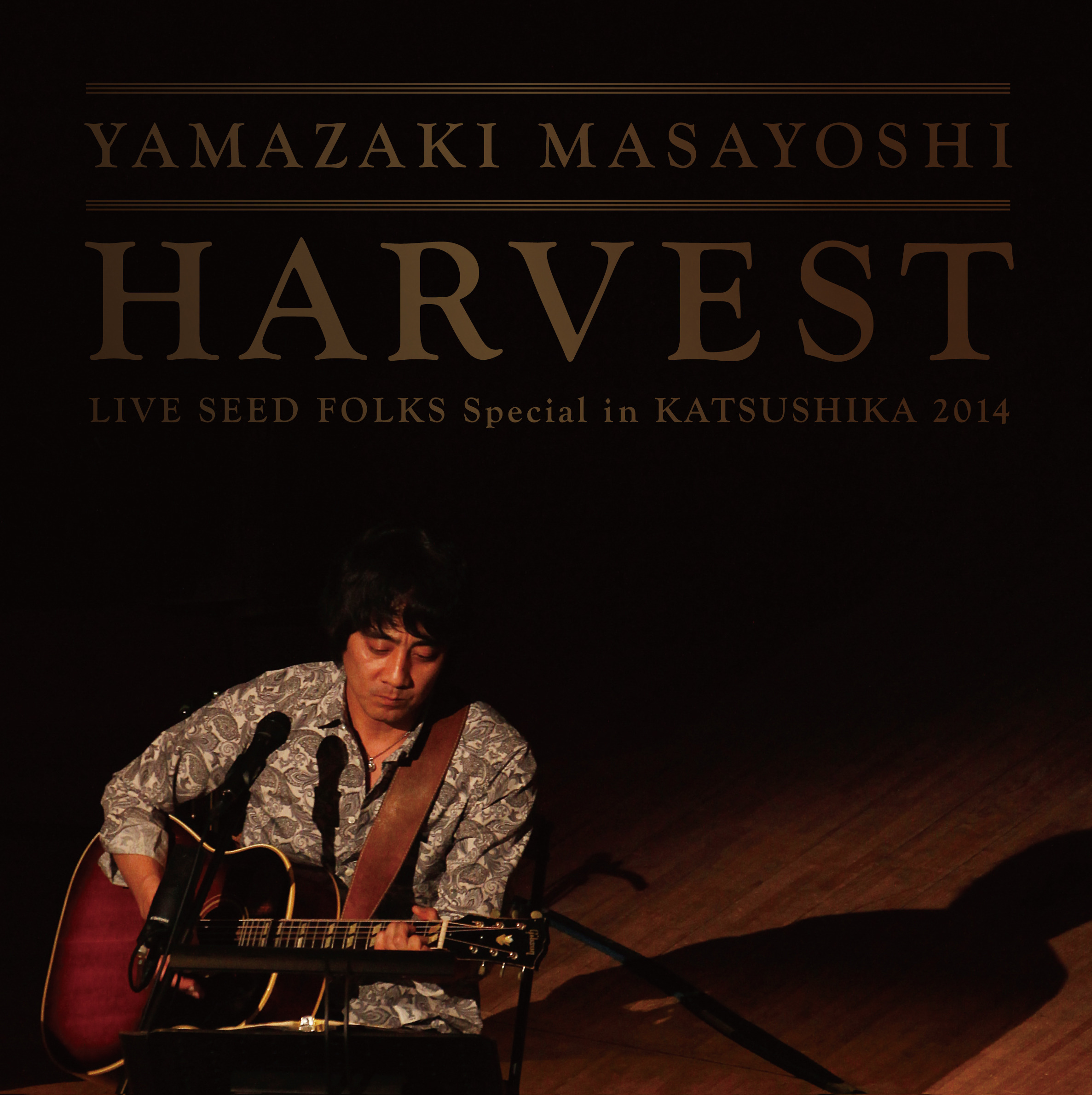 HARVEST ~LIVE SEED FOLKS Special in Katsushika 2014~
Released November 2015.04.22, XNUMX
3,000yen(tax included)
DISC 1
1. starry guitar
2. Aphrodite
3. Benjamin
4. Soft moon
5. Swallow
6. Fireworks
7. Minuet
8. I am here
DISC 2
1. Chinese food
2. Tears of Altair
3. coins
4. Flowers
5. Domino
6. Haruo
7. A Li Ga To
8.One more time, One more chance
9. Heart letter
10.Daydream Believer
11. Road
2015 first release decision! !
The memorable first release of 20 released by Masayoshi Yamazaki, who will celebrate the 2015th anniversary of her debut this year, was the acoustic special live ``LIVE SEED FOLKS Special in Katsushika'' held at the Katsushika Symphony Hills in Tokyo last April. Is a live sound source.
Yamazaki's guitar/piano playing and string quartet performances are truly special.
Completely recorded all 19 songs such as the blockbuster "One more time, One more chance" and "I am here", and invite the listener to a fantastic world 1 It has become a sheet.
Starting with the Hiroshima Phoenix Hall on April 4, it has also been decided to hold "Masayoshi Yamazaki String Quartet "HARVEST"" at nine locations nationwide.
The official fan club BOOGIE HOUSE members and the luxurious board sold only at the LIVE venue are a very premium one with a laminate card with a tour staff pass specification high resolution sound source download code and a full color 32 page photo book.
【title】
"HARVEST ~LIVE SEED FOLKS Special in Katsushika 2014~"
[Release date]
Wednesday, May 2015, 4
[Product number/price]
Normal edition: XNAU00005-6 JPY 3,000 (tax included) 2 CDs
Deluxe Edition: Live venue, FC limited ¥5,000 (tax included) 2 CDs + tour staff pass specification High res sound source download laminated card + luxurious full color 32P photo book
*High resolution sound source is a product of "LIVE SEED FOLKS Special in Katsushika" currently released on the high resolution sound source distribution site e-onkyo music.
Download from the special site according to the download method specified on the enclosed card!
* Hi-Res is a 44.1kHz/16bit or 96kHz/24bit standard that has much more information than the CD standard (192kHz/24bit), and is a sound source with a quality that allows you to distinguish even the fine breath of an artist. ..
【recorded music】
○ Disc-1
M1: Starry sky guitar
M2: Aphrodite
M3: Benjamin
M4: Soft moon
M5: Swallow
M6: Fireworks
M7: Minuet
M8: I'm here
○ Disc-2
M1: Chinese food
M2: Altair's tears
M3: coin
M4: Flowers
M5: Domino
M6: Haruo
M7: A Li Ga To
M8: One more time, One more chance
M9: Letter of heart
M10: Daydream Believer
M11: Road
Masayoshi Yamazaki FC members limited live CD "HARVEST ~LIVE SEED FOLKS Special in Katsushika 2014~
[With high resolution sound source download card & gorgeous 32P photo book]
A special gift for all who apply during the reservation period at Augusta Family Club!
☆ A stylish handwritten illustration postcard with a "quartet" motif that can be displayed in your room!
☆Tour starting from April 4th from the URL or QR code on the postcard
"Yamazaki Masayoshi String Quartet" HARVEST "" Invitation to a special page where you can listen to the MC of each venue!
*Benefits are included in the product.
*The viewing start date is currently being adjusted, so it will be determined on the Masayoshi Yamazaki Fan Club website,
On the Augusta Family Club WEB site, by email to the address registered in the fan club
I will let you know.
*Please note that you may not be able to watch on some terminals.
For more information, please contact your mobile phone carrier.
[Reservation acceptance period]
February 2 (Tue) 10:15 to April 00 (Wed) 4:15
With the above benefits! If you are applying for a luxury CD,
Please access from the special banner [HARVEST CD application] on the BOOGIE HOUSE WEB site.
●The reservations made within the above period will be delivered on Wednesday, April 2015, 4.
●The benefits are available only to those who apply during the above reservation period.
●Please note that orders over the above period will be shipped at any time.
● All other products purchased together will be shipped at the same time as this product.
●The application is for "one who has valid membership period after February 2015".