DISCOGRAPHY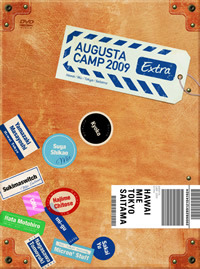 Augusta Camp 2009-Extra-(Regular Edition)
Released November 2010.03.24, XNUMX
9,975yen(tax included)
This is the 11th year of Augusta Camp!
The long-awaited DVD of the special event "Augusta Camp 2009 ~Extra~" that has changed and deepened!
Kyoko, Masayoshi Yamazaki, Shikao Suga, COIL, mi-gu, Chitose Moto, Sukima Switch, Tomoyuki Nagasawa, Motohiro Hata, MICRON' STUFF, Yu Saikai, as well as valuable interview videos and dreams that can only be seen here. Through session and collaboration, that excitement and memory will be revived! !
For details, hereFrom ♪