2020.05.11
The live sound source of "Sukima Switch TOUR 2019-2020 POPMAN'S CARNIVAL vol.2" will be released on June 6!
"SUKIMASWITCH TOUR 2019-10 POPMAN'S CARNIVAL Vol.2019" started in October 2020
On December 12th, the live sound source at Nakano Sun Plaza in Tokyo was recorded,
In addition, the CD also contains the laughter MC collection carefully selected from each performance as a bonus track.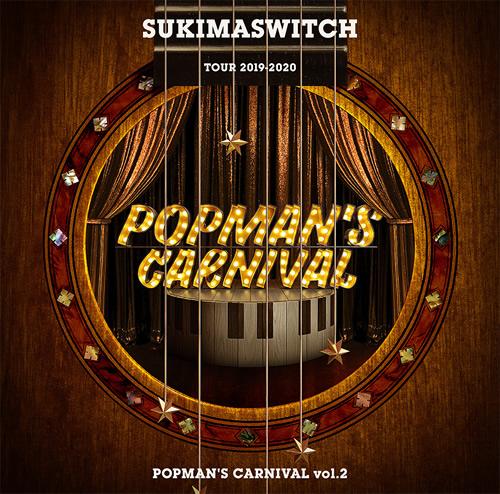 [Release details]
Title: LIVE CD Sukimaswitch TOUR 2019-2020 POPMAN'S CARNIVAL vol.2
Release Date: XNUM X Year X NUM X Month X NUM X Day
Price: ¥ 3,200 (excluding tax)
Item No.: UMCA-10074/5 (2 disc set)
【recorded music】
-DISC1-
1. POPMAN'S CARNIVAL Theme 2
2. Touch the future
3. Guarana
4. Revival
5. Ice cream syndrome
6. Scarlet
7. Youth
8. Zlatina Luca
-DISC2-
1. Christmas is coming
2. Andersen
3. winter whistles
4. The container of stars
5. Beautiful
6. Sphere Feather
7. Pearly! Pearly!
8. The best boy
9. Ah Yeah !!
"Sukima's story ④" (MC collection)
10. Tar-kun's work
11. Listen! "Roll Panna" with a gap switch
12. Circular board
13. It's shiny
14. Crab or you
*Please note that the order of songs may change.