Sukima Switch will appear in SUPER BEAVER's independent project "On-site supremacy 2023"!
[SUPER BEAVER voluntary project "On-site supremacy 2023"]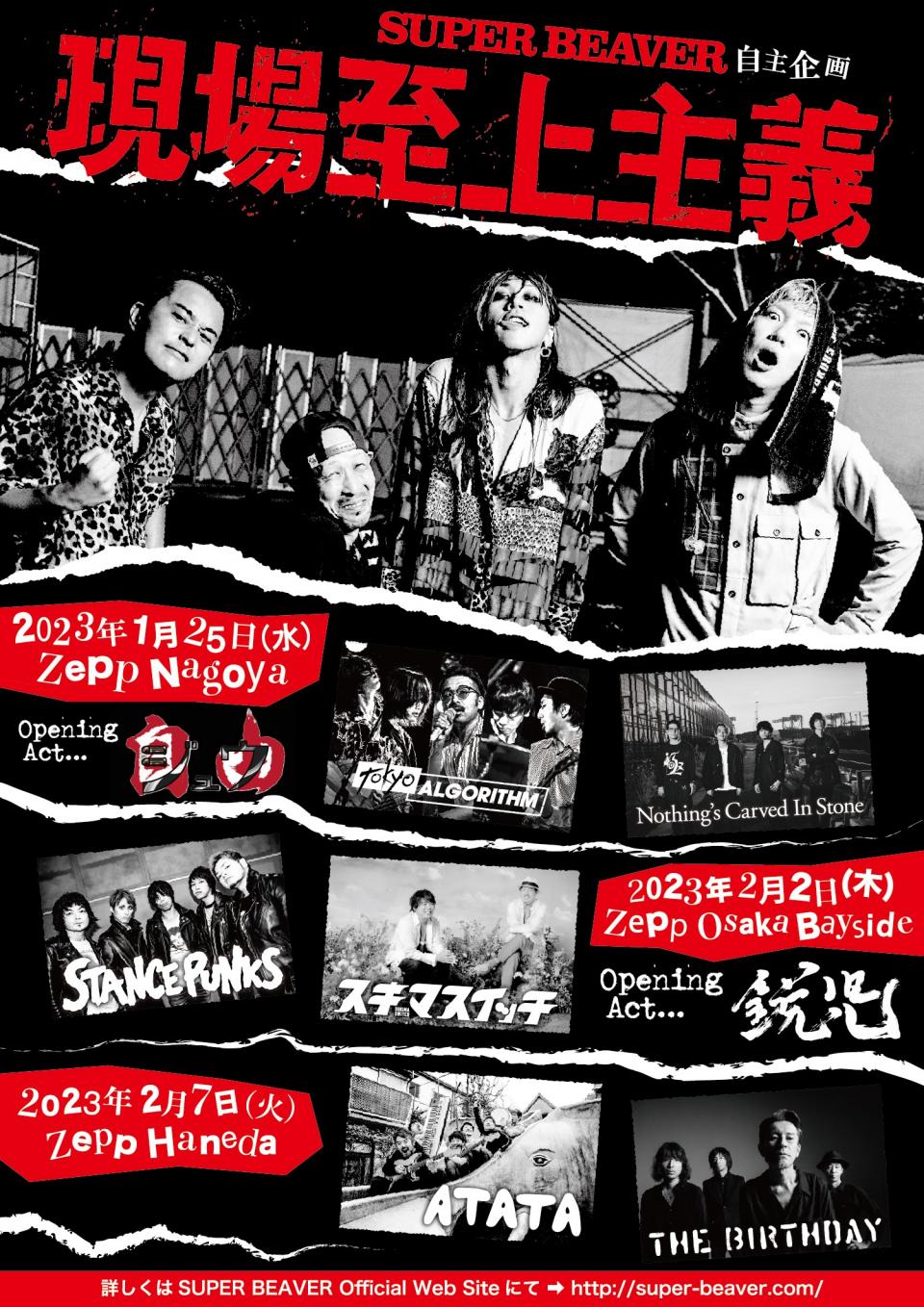 Date: Thursday, March 2023, 2
Venue: Osaka, Zepp Osaka Bayside
Time: Open 17:30 / Start 18:30
Starring: SUPER BEAVER, Guest: STANCE PUNKS, Sukima Switch, Opening Act: Eiji
Ticket price: 1F standing / 2nd floor reserved seat / 2nd floor rear standing 6,000 yen (Dr. not included) *Standing is numbered
* Preschoolers cannot enter
Inquiry:
GREENS: 06-6882-1224 [Weekdays 11:00-19:00]
http://www.greens-corp.co.jp
▼ Sukima Switch fan club pre-registration starts!
Reception period: April 2022, 10 (Monday) 17:18 to April 00, 10 (Sunday) 23:23
http://www.sukima-de-luxe.com/
■SUPER BEAVER official website
https://super-beaver.com/
・The event will be held in accordance with the policies of the government, local governments and venues, as well as the "Guidelines for Preventing New Coronavirus Infections at Music Concerts".
・Please note that the precautions may be changed after the guidance.
・Regarding the capacity and seating specifications, the event will be held at full capacity based on the request of the local government of the venue/host city.
・We will take thorough infection control measures, but if you are concerned about any infectious disease, including the new coronavirus, please refrain from purchasing tickets for this performance or visiting the venue.
 Please note that the organizer will not be held responsible for any risks, including infection, or other economic losses.
・The opening/starting time may change if the local government issues a request to shorten the time.
・As part of measures to prevent the spread of new coronavirus infection, reception by the contact operator may be suspended or the reception hours may be changed.For details, please check the website of each company.
・Alcohol for disinfection will be installed at the entrance of the venue, so please disinfect your fingers when entering.After entering, please cooperate with cough etiquette and frequent hand washing.
"・At the time of entry, the staff will use a non-contact type thermometer to measure the temperature of the customer. Entry will be refused.
 "
 If you are drinking alcohol at the time of the temperature measurement, it may not be possible to measure correctly, so please do not drink alcohol when you come to the venue.
・ Masks will be strictly adhered to inside the venue.Please bring your own mask.Those who are not wearing masks will not be admitted.
・Singing together is not allowed.Also, please refrain from loud conversations.
・If your physical condition deteriorates or you feel unwell during your visit, please immediately notify a nearby staff member.
・In order to reduce the risk of infection, we will refuse to receive gifts.
・We kindly ask that you refrain from waiting to enter the venue, as it may cause inconvenience around the venue and may create a crowded sukima due to gathering.
・Even if the event is not listed in the precautions, if the organizer determines that it will cause trouble for other customers, we may ask you to leave the venue depending on the situation.
・Please note that we will distribute the video of the venue including the customer, and the photos may be published.
・Opening Act will be performed at the opening time.
・Please do not purchase tickets for commercial purposes.
・Purchase applications for commercial purposes and resale of tickets are strictly prohibited.Resale tickets will be invalid and you will not be able to enter.
●Please refrain from coming to the event if any of the following applies to you.
・Those who have a fever of 37.5℃ or higher when checking the temperature before leaving or entering the venue.
・Those who have symptoms such as cough, dyspnea, strong malaise, sore throat, taste/smell disorder, conjunctivitis, headache, diarrhea, nausea/vomiting, or other poor physical conditions.
・Those who have been tested positive for the new coronavirus and those who have been instructed to stay at home.
・Persons who have been in close contact with someone who has been tested positive for the new coronavirus within the past 7 days of their visit, and those who have family members or close acquaintances who are suspected of being infected.
・Those who have traveled to a country or region where the government has imposed immigration restrictions or required an observation period after entry, or have had close contact with a resident of that country within the past 7 days from the date of visit.
・Those who are likely to become seriously ill at the time of infection, those who are elderly, those who have chronic illnesses, those who are pregnant, or those who live with those affected, should carefully consider whether to purchase tickets. Please apply and purchase.