11/12 (Sat) Nissin Rao & Office Augusta 30th anniversary special live streaming will be held!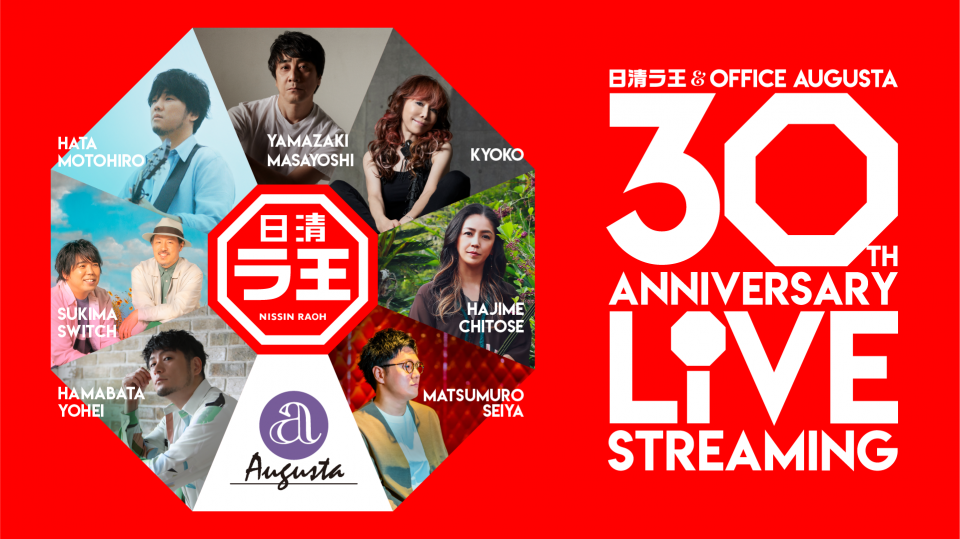 [Raoh & Office Augusta 30th ANNIVERSARY LIVE STREAMING]
Nissin Rao and Office Augusta, a special one-night-only live show celebrating their 30th anniversary.
In addition to live distribution and pre-recorded footage, treasured footage from that day will also be released.
In the after talk, chat with the artist.
We will deliver a luxurious two and a half hours!
■ Cast
Kyoko, Masayoshi Yamazaki, Chitose Moto, Sukima Switch, Motohiro Hata, Youhei Hamabata, Masaya Matsumuro
■ Performance date
2022.11.12 (Sat) 18: 00-20: 30 (planned)
Live main part + after talk
*There is a change of about 10 minutes between the main part of the live and the after talk.
*Delivery time is subject to change.
* Missed delivery deadline: Until 2022.11.19 23:59
■ Tickets
General ticket tax-included 3,300 yen
Premium ticket 6,600 yen including tax
<Premium Ticket Set Contents>
① Live viewing
②Ultra Cheer (throwing coin: 300 yen including tax/1 time) for 10 times
③ Masayoshi Yamazaki/Sukima Switch live encore delivery
Last year, Masayoshi Yamazaki's live (August 2021) and Sukima Switch's live (November 8) distributed from the power steering reboot will be carefully selected and distributed one by one for encore.
* The viewing promotion code will be sent by email from 2022:11 on Sunday, November 13, 10.
★Premium ticket limited lottery
By lottery among premium ticket purchasers
④ Gift signed goods (XNUMX people)
⑤ Signed poster (not for sale) as a gift (5 people)
* We will contact the winners by email at a later date.
* If you purchase a premium ticket, you will be automatically entered in ④ and ⑤ above.
* Membership information of those who purchased premium tickets will be used for the purpose of lottery, contact and shipping of prizes, etc.
■Click here for ticket purchase and details.
https://nissin-ps.com/live/detail/04807580