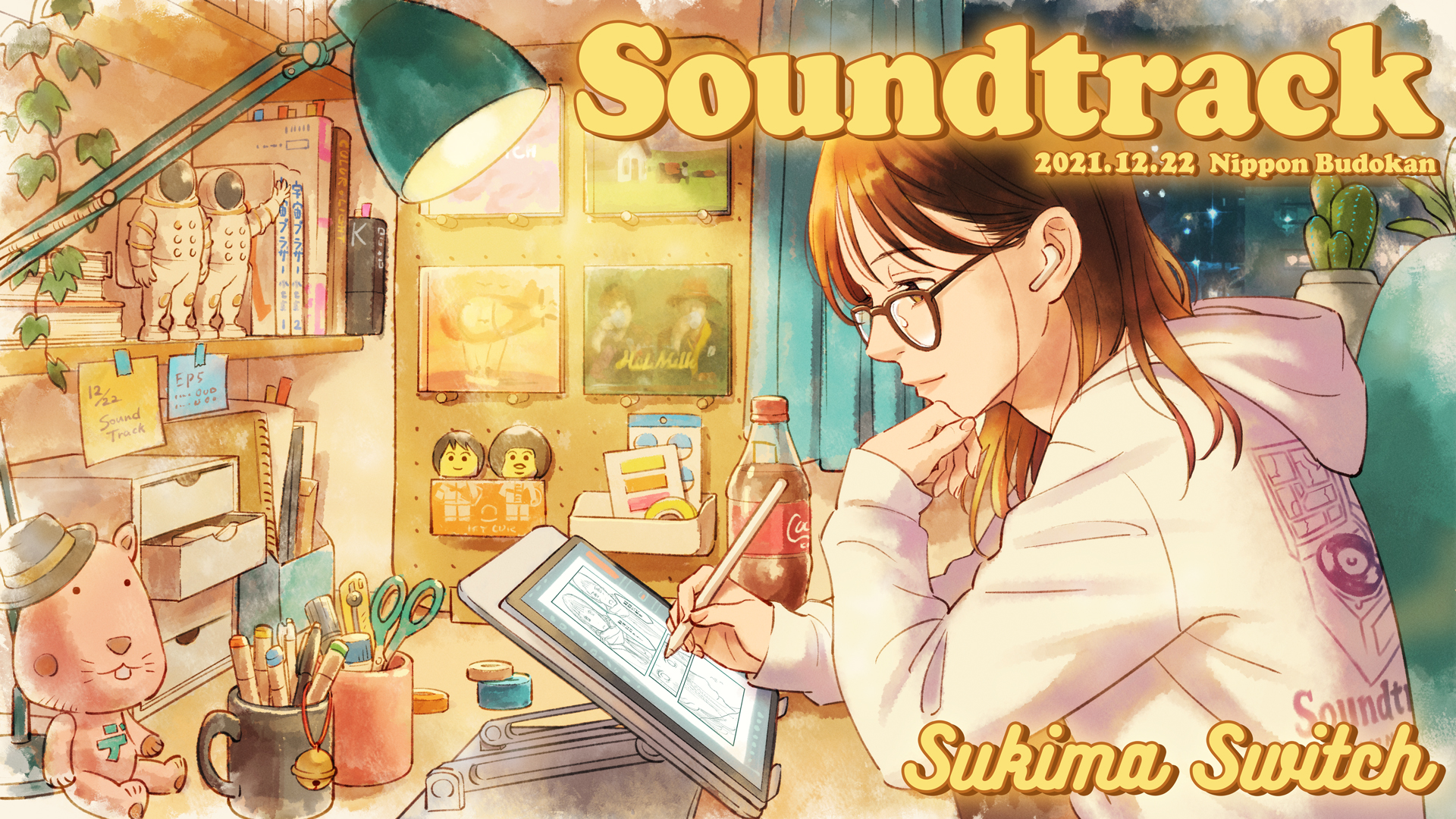 Sukima Switch "Soundtrack"
Sukima Switch proposes a new challenging live concert.
A story written only for this performance with the expression "manga"
A truly "Soundtrack" live performance supported by numerous Sukima Switch songs! !!
Please look forward to a completely new stage that has never been seen before, woven by manga and music.
The must-see live will be on Wednesday, December 12nd at the Nippon Budokan! !!
ScheduleSchedule / venue

■ Performance name: Sukima Switch "Soundtrack"
■ Date: December 2021, 12 (Wednesday) OPEN / START: 22: 17/00: 18
■ Venue: Nippon Budokan




Ticket Informationチケット

■ Information on same-day ticket sales for "Sukima Switch" Soundtrack ""

[Same-day ticket] 17: 00- All seats will be reserved for ¥ 11,550- (tax included) at the venue same-day ticket window.

* Please fill out the questionnaire at the time of purchase.

■ Ticket price: All seats reserved ¥ 11,000 (tax included)

* Tickets are required for elementary school students and above.

* Please allow preschoolers to enter within the seating area of ​​the accompanying guardian so as not to inconvenience other guests.

Additional tickets will be sold when the stage plan is confirmed.

* Although some seats are difficult to see on stage and video production, the atmosphere of the concert will not change with service videos.

<General ticket sales>

12/4 (Sat) 10: 00-General sales start

■ Eples 

https://eplus.jp/soundtrack2021/

■ Ticket Pia 

https://w.pia.jp/t/sukimaswitch2021/

■ Lawson ticket 

https://l-tike.com/sukimaswitch/

* Up to 1 tickets can be applied for 2 application per person.

* Reception is only online, not by phone or at convenience stores.

■ Inquiries: SOGO 03-3405-9999

■ [Request for regulatory admission cooperation] Information on admission time for Nippon Budokan performance "Sukima Switch" Soundtrack ""

December 2021, 12 (Wednesday) Information for visitors to Nippon Budokan.

This performance will be restricted admission to avoid crowding.

We will set an admission time for each seat, so please come to the venue at the designated time.

Even if you come early, you will not be able to enter, so we appreciate your cooperation.

Please check SOGO TOKYO HP for details.

https://sogotokyo.com/live_information/detail/58

--------

December 2021, 12 Notes on purchasing tickets for the Sukima Switch Nippon Budokan performance and visiting the venue Those who purchase tickets are kindly requested to read and agree to the precautions before purchasing.

・ Tickets for this performance will be sold with a capacity of 9% in accordance with the event guidelines as of today (September 4th).The seating arrangement will keep the social distance and thin out each seat, so even your companion may not be able to sit side by side.If the event guidelines are relaxed in the future, 50% or more of the tickets will be sold.

・ Up to 1 tickets can be applied for 4 ticket per person.

・ All ticket purchasers (including accompanying persons) are required to enter personal information.

・ Tickets can be selected from electronic tickets and paper tickets.

・ Both electronic tickets and paper tickets must be picked up by the customer in front of the admission check staff.

・ Tickets are required from children over elementary school age.

・ Up to 1 preschooler can view above the knee per adult.However, please be careful not to bother others.

・ The inside of the audience seats may be reflected in the recorded video, distributed video, and photos.

-Please install the new Coronavirus Contact Confirmation App (COCOA) released by the Ministry of Health, Labor and Welfare.

For more details on the application, please check the official website of the COCOA app.

https //www.mhlw.go.jp/stf/seisakuunitsuite/bunya/cocoa_00138.html

・ There is no parking lot or bicycle parking lot exclusively for the event.Please use public transportation to visit the venue.

・ No coin lockers or cloakroom services will be provided at the venue.Please manage your luggage by yourself.

・ Be careful not to steal or lose it.

・ Pets are not allowed to enter. * Guide dogs and service dogs are allowed.

・ From the perspective of preventing the spread of the new coronavirus infection, customers are requested to take their own garbage such as food and drink and tissues from the venue.

・ Masks will be strictly adhered to in the venue.It is not available at the venue, so please bring your own mask.We will refuse admission to those who are not wearing masks. * It is okay for preschool children to wear masks at the discretion of their accompanying parents, but please be careful not to inconvenience other guests.

・ Please refrain from loud cheers and singing.

・ When entering the venue, the temperature should be measured with a non-contact thermometer and the fingers and soles should be disinfected before entering the venue.Please take regular temperature measurements yourself from 3 days before the performance to the morning of the day.

・ Those who do not meet the admission conditions listed below will be refused admission on the day of the event.

① Those who have traveled abroad and cannot prove negative within 2 weeks before the performance

(37.5) Those who have a fever of XNUMX ° C or higher, those who are drunk, those who have symptoms such as coughing, strong fatigue (malaise), suffocation, and dysgeusia.

③ Those who are suspected of being infected by their family members

④ Those who cannot keep personal information

⑤ Those who received a positive test for the new coronavirus within 14 days before the performance date

⑥ Those who cannot prove negative due to the designation of close contact with those who received a positive test for the new coronavirus within 14 days before the performance date.

⑦ Others who cannot follow the staff's instructions

・ If you have an underlying disease (hypertension, diabetes, cardiovascular disease, respiratory disease, cancer, etc.) or are pregnant, please refer to the information of related organizations and be careful before purchasing a ticket. Please make a judgment.

・ Admission will be distributed on the day of the performance.Set the admission time for each customer (for each seat position).Thank you for your cooperation in order to alleviate the congestion at the entrance.

・ Approximately 10 days before the performance, Sukima Switch official website (

https://www.office-augusta.com/sukimaswitch/

) And the official SNS will inform you of the details of the distributed admission time.

・ After the performance, you will be restricted from leaving the venue, so please make a plan with plenty of time to make a reservation for return transportation.

・ Personal information that we keep at the time of purchase may be shared with government agencies.In the unlikely event that personal information cannot be stored at the time of ticket purchase, the information will be stored at the personal information entry point.In addition, we will keep the personal information we have received for about one month and destroy it later.

・ Please refrain from singing, vocalizing, or talking loudly inside or outside the venue.

・ No smoking area will be set up in the venue.

・ If the goods section is crowded on the day, numbered tickets may be distributed.Please purchase by mail order in advance as much as possible.

・ On the day of the event, we cannot accept gifts or flowers from individuals. * Even if it is sent directly to the venue, it will be rejected.

・ Please be sure to keep your ticket for one month from the date of the event so that you can know your seat position.Please be careful when managing your tickets.

・ The management staff on the day may wear face shields, masks, and rubber gloves.

・ Disinfectants will be installed in various places in the venue, and liquid soap and disinfectant will be installed in all toilets, so please wash and disinfect your hands diligently.

・ Regularly clean the parts of the venue that are touched by an unspecified number of people with antiseptic solution.

・ Please refrain from drinking alcoholic beverages before and after admission as there is a risk of body temperature rising.

・ Alcoholic beverages are strictly prohibited in the venue.

・ In places where people are crowded, such as the entrance, arrange them at intervals and always keep the conversation to the minimum necessary.

・ If you find someone who is not feeling well or looks like that in the hall, we will ask the staff or the staff will speak to you.Doctors and nurses are waiting in the venue.

・ If any of the visitors to the venue have been infected, please contact the nearest health center and report it to SOGO TOKYO (03-3405-9999). ..

・ On the day of the performance, we may verify your identity, so please be sure to bring your official ID.

・ Ticket fees will not be refunded unless the performance is canceled or postponed.Please make a careful judgment before purchasing a ticket.However, in the case of a positive test for the new coronavirus or designation of close contact, refunds may be provided in exceptional cases, so please contact SOGO TOKYO (03-3405-9999).

・ The purchased ticket will not be reissued in any case (lost, burnt, damaged, etc.).

・ Please be careful when managing tickets.Please keep your tickets for one month after the performance.

・ Customers with disabilities who wish to be guided to a wheelchair viewing sukima are available.To secure viewing sukima, please contact Sogo Tokyo, the organizer, at least 2 weeks before the performance if you purchase a ticket.When the capacity is reached, we may refuse to guide you to the sukima.Companions and caregivers also need a ticket.

・ Resale or transfer of tickets to a third party for commercial purposes is strictly prohibited regardless of the purpose or reason.In the unlikely event that an unauthorized purchase is discovered or the identity cannot be verified, admission will be refused.In such a case, we will not refund the ticket fee, accommodation fee, transportation fee and other expenses.If you want to change your companion registration, please contact SOGO TOKYO (03-3405-9999).

・ If you do not follow the above precautions, you will be refused admission.

・ We will try not to leave infected people from this venue and welcome customers on the day of the concert management so that they can enjoy it with peace of mind.We ask for the understanding and cooperation of each and every customer in order to prevent infection and spread.

・ In the future, performance information and precautions may be updated under the guidance of government agencies and local governments.Please check the event official website even after purchasing the ticket, and be sure to check the latest performance information and precautions, especially on the day before the performance.

Contact for inquiries regarding performances

SOGO TOKYO 03-3405-9999(平日12:00-13:00,16:00-17:00※祝日はお休みです)

Surveyquestionnaire

"Sukima Switch" Soundtrack "" questionnaire conducted!

We are conducting a questionnaire for visitors.

We appreciate your cooperation as it will be valuable material for the future.

https://www.office-augusta.com/sukimaswitch/enquete/
News