Sukima Switch 20th ANNIVERSARY fan club tour "VIP Vol.4" will be held! ! !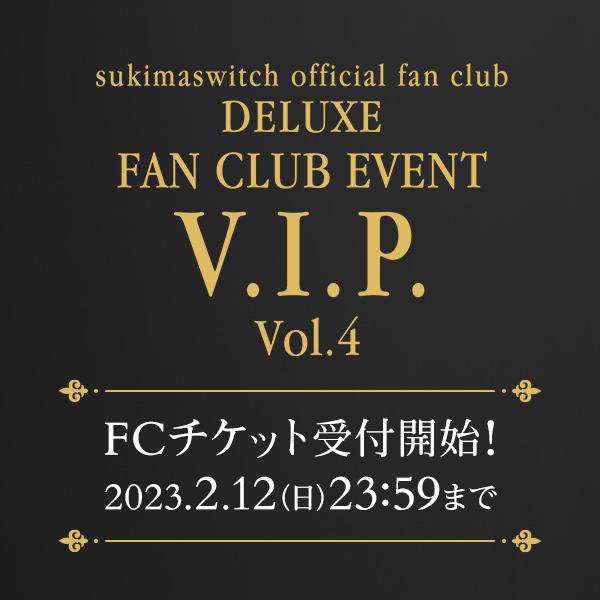 Fan club tour "VIP Vol.4" held for the first time in XNUMX years
This time as well, we are planning a project with laughter and tears (is there?) that is unique to Sukima Switch and fan clubs.And there is also a live band formation! !
<Ticket acceptance period>
Application acceptance period March 2023, 3 (Wednesday) 29:12 to the opening time of each performance
*Please note that all performances are on a first-come, first-served basis.
In addition, reserved seats on the 5nd floor of Zepp Haneda in Tokyo on 2/5 (Tue.) and Sendai GIGS on 5/XNUMX (Fri./Holiday) are sold out.
<Click here to apply>
http://www.sukima-de-luxe.com/
You can apply even if you are a new member from now on.
ScheduleSchedule / venue

4 / 9 (day)
Hiroshima Prefecture Hiroshima Club Quattro
OPEN/START: 17:00/18:00
Contact: Union Music Office 082-247-6111

4 / 14 (gold)
Zepp Namba, Osaka Prefecture
OPEN/START: 18:00/19:00
Contact: GREENS 06-6882-1224

4 / 16 (day)
Takamatsu festival, Kagawa prefecture
OPEN/START: 17:00/18:00
Contact: DUKE Takamatsu 087-822-2520

4 / 19 (Wed)
Aichi Prefecture Zepp Nagoya
OPEN/START: 18:00/19:00
Contact: JAILHOUSE 052-936-6041

4 / 21 (gold)
Fukuoka Zepp Fukuoka
OPEN/START: 18:00/19:00
Contact: Kyodo West Japan 0570-09-2424

4 / 30 (day)
Hokkaido Penny Lane XNUMX
OPEN/START: 17:00/18:00
Inquiries: Mount Alive 050-3504-8700

5 / 2 (Tue)
Zepp Haneda, Tokyo
OPEN/START: 18:00/19:00
Contact: Sogo Tokyo 03-3405-9999

5/3 (Wednesday / holiday)
Niigata Prefecture Niigata LOTS
OPEN/START: 17:00/18:00
Contact: Kyodo Hokuriku Ticket Center 025-245-5100

5/5 (Friday, holiday)
Sendai GIGS, Miyagi Prefecture
OPEN/START: 16:00/17:00
Contact: Kyodo Tohoku 022-217-7788

Ticket informationticket

■ Ticket fee
DELUXE members: ¥7,000 (tax included)
Non-members: ¥8,000 (tax included)

■Limited number of tickets
Up to XNUMX tickets per performance per person
*It is possible to apply for 1 DELUXE members, 1 DELUXE member + XNUMX non-member.
The ticket price for non-members is ¥8,000 (tax included), so please be sure to apply for the correct seat type.We will check the membership at the time of the lottery, so please be aware that if you select the wrong seat type for a non-member, your application will be considered incomplete and will not be eligible for the lottery.
※ preschool children admission not
* Tickets are required for elementary school students and above.
News