"ZUTTOMOTTO" starring Takuya Ohashi will be held in Tokyo in a hurry!
"ZUTTOMOTTO", which will be held at Namba Hatch on February 2th (Wednesday), where Takuya Ohashi will appear, will be held in Tokyo as well!
Takuya Ohashi x Mao Abe, an acoustic live event by these two respected groups.
We will deliver a heartwarming night that you will want to listen to for a long time.
FM802 Hiroto Nakajima will be the MC for the Tokyo performance.
What kind of night will it be! ?I'm looking forward to seeing it.
[ZUTTOMOTTO] Performance in Tokyo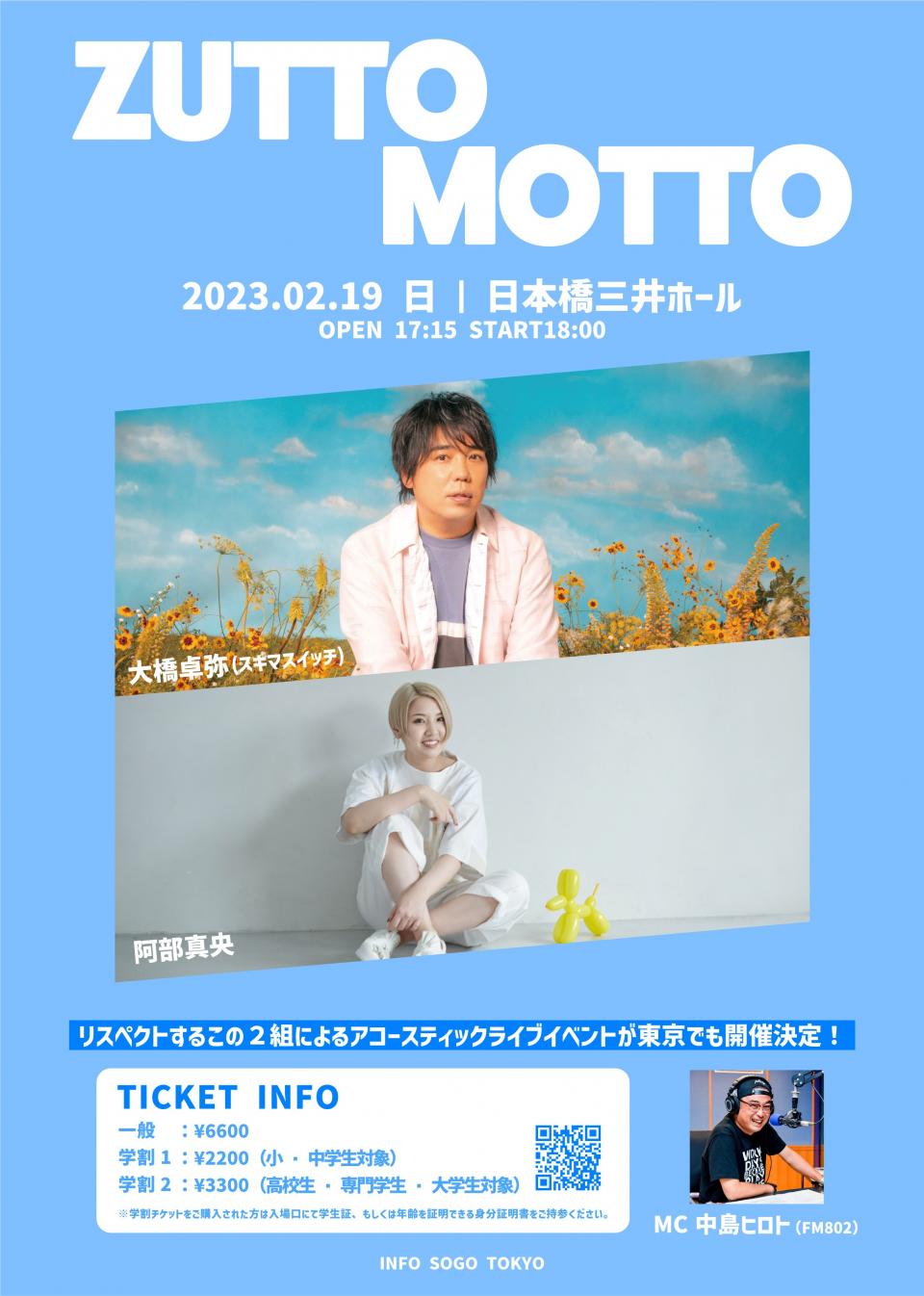 Performance Date: Sunday, September 2023, 2
Venue: Nihonbashi Mitsui Hall
Time: Doors open at 17:15 / Performance starts at 18:00
Cast: Takuya Ohashi (Sukima Switch), Mao Abe, MC: Hiroto Nakajima (FM802)
Seat type: All seats reserved
<Advance price>
General 6,600 yen
Student discount ① 2,200 yen (for elementary and junior high school students)
Student discount ② 3,300 yen (for high school students, vocational students, and university students)
*Separate drink fee
*Tickets are required for elementary school students and above
For preschool children, please stay within the seating area of ​​the accompanying guardian so as not to disturb other customers.
If you need a seat, you will need a ticket.
General release date: February 2023, 2 (Sat) 4:10
[Official lottery advance reception ①]
受付日時:2023年1月19日(木)12:00~2023年1月25日(水)23:59
https://eplus.jp/zuttomotto-ot/
Contact: SOGO TOKYO
03-3405-9999(月〜土 12:00〜13:00/16:00〜19:00※日曜・祝日を除く)
http://www.sogotokyo.com/
<Notes>
This performance will be held based on the guidelines for preventing the spread of new coronavirus infection at music concerts.
In addition, except in the case of changes in the date and time of the event due to changes in the situation in Japan or cancellation of performances,
No refunds will be made for any other reason, so please be aware of this before purchasing.
<Be sure to check before visiting>
Please refrain from visiting if you fall under any of the following.
■Those who have a fever of 37.5℃ or higher.
■Persons with symptoms such as sore throat, headache, arthralgia, suffocation, difficulty breathing, cough, diarrhea, conjunctivitis, and taste disorder.
For those who have been in close contact with a person who has been confirmed to be infected with the new coronavirus, family members living together, or close acquaintances
Those who are suspected of being infected.
■ Those who cannot follow the measures and instructions to prevent infection, those who do not cooperate with actions that are conscious of infection prevention,
We will refuse admission to those who we judge to be a hindrance to ensuring safety.
■In addition, if such behavior is discovered during the performance, you will be asked to leave the venue.
<Requests to visitors>
■Please wear a mask at all times.
■Please thoroughly disinfect your hands by using the alcohol disinfectant installed in the lobby, including alcohol disinfection when you enter.
■Please refrain from intermittent loud voices.However, singing at a volume that allows you to have a conversation with the customer next to you,
It is possible to temporarily raise your voice in response to the performance.
Depending on the future situation, the guideline countermeasure information may be changed.
As of 2023 year 1 month
Click here for details on February 2th (Wednesday) in Osaka
https://www.office-augusta.com/sukimaswitch/live/?page_no=1&id=293
News