2009.3.25
LIVE DVD "Drunk Monkeys "TOUR 2008 "and"+α""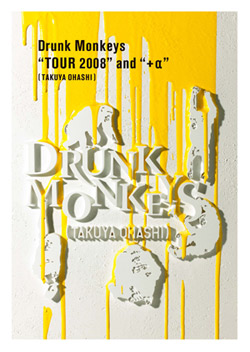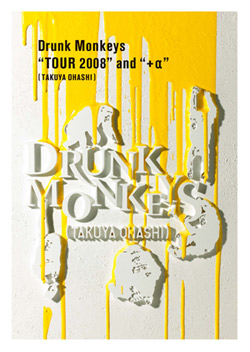 Limited Edition
(2DVD) ¥ 6,825 (tax included) / AUBK-11019/20
[DISC-1] (Recording time: undecided)
On the final day, in addition to the live video (7 songs) at Zepp Sapporo, we recorded a tour document video that looks back on the four-month trajectory such as rehearsal, stage, backstage and off shot from the first day to the final day of the tour!
[DISC-2] (Recording time: undecided)
"Takuya Ohashi with Drunk Monkeys TOUR 2008+α" live video
[Initial benefits (first production limited edition only)]
(1) Interview with Takuya Ohashi & Drunk Monkeys
(2) "Thank you" Acoustic Ver. (in Zepp Nagoya / narrator)
(3) Live session ``SHIMEHARU-TSURU ROCK'' (in Niigata LOTS) slide show luxury bonus footage recorded!
<Recorded songs>
Drunk Monkeys theme

SKY

Love master

Blues

Memory

Cold world

Boy and sky

Sure thing*

Horses *

Runway *

magic girl

mass

Spiral

the song of the Beginning

Thank you

-Encore-

帰 り 道

Loopy! Loopy!

Warm world

Button (2008 Live Ver.) * New song not included in the album

* "Takashi na Koto" (covers Kazumasa Oda's music)

* "Horses" (keyboard monkey: covers songs by Yuta Saito)

* "Runway" (self-covering the song written by Takuya Ohashi for Tadashi Kosaka's album)
Normal Edition
(2DVD) ¥ 5,250 (tax included) / AUBK-11017/18
[DISC-1] (Recording time: undecided)
On the final day, in addition to the live video (7 songs) at Zepp Sapporo, we recorded a tour document video that looks back on the four-month trajectory such as rehearsal, stage, backstage and off shot from the first day to the final day of the tour!
[DISC-2] (Recording time: undecided)
"Takuya Ohashi with Drunk Monkeys TOUR 2008+α" live video
<Recorded songs>
Drunk Monkeys theme

SKY

Love master

Blues

Memory

Cold world

Boy and sky

Sure thing*

Horses *

Runway *

magic girl

mass

Spiral

the song of the Beginning

Thank you

-Encore-

帰 り 道

Loopy! Loopy!

Warm world

Button (2008 Live Ver.) * New song not included in the album

* "Takashi na Koto" (covers Kazumasa Oda's music)

* "Horses" (keyboard monkey: covers songs by Yuta Saito)

* "Runway" (self-covering the song written by Takuya Ohashi for Tadashi Kosaka's album)