2020.10.14
Sukimaswitch TOUR 2019-2020 POPMAN'S CARNIVAL vol.2 THE MOVIE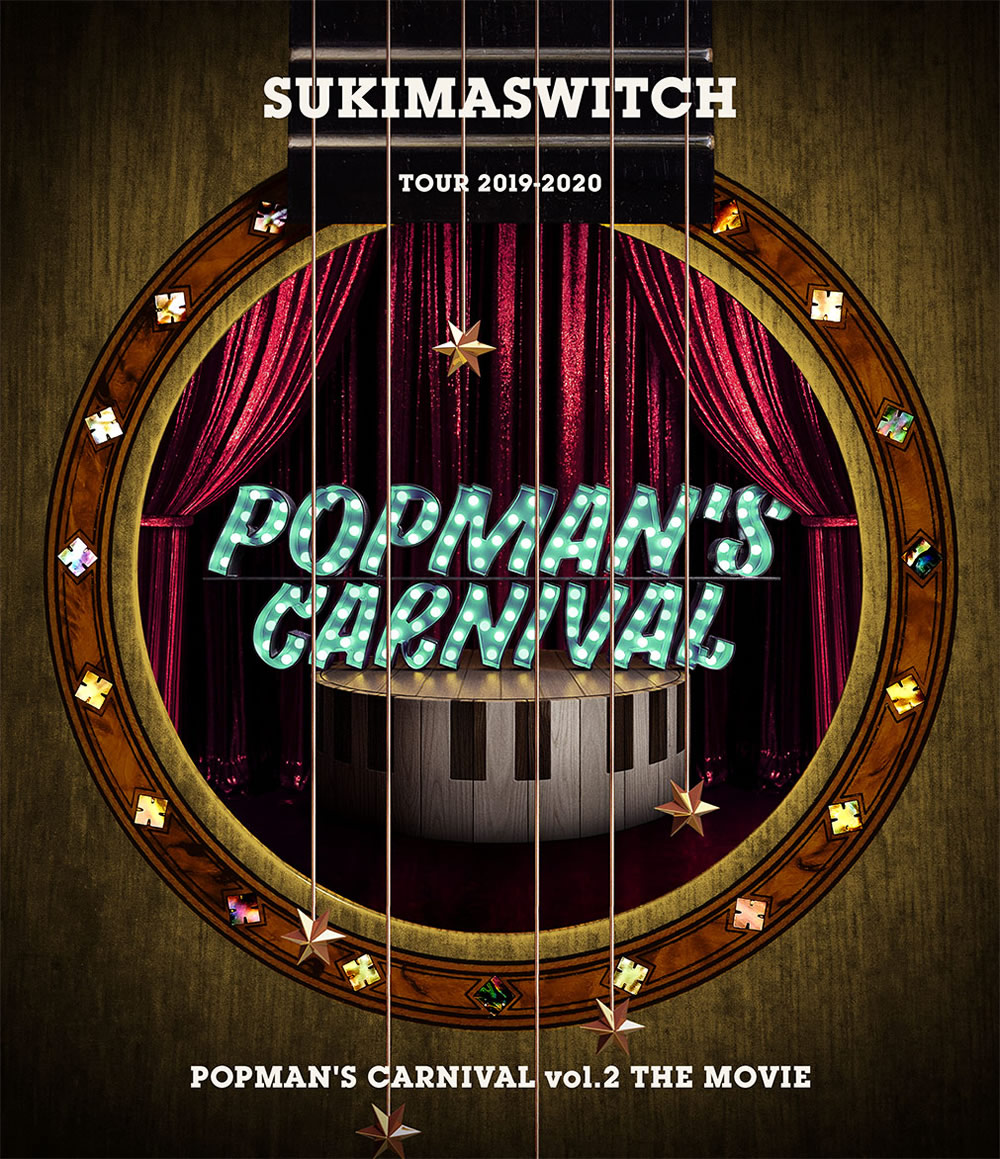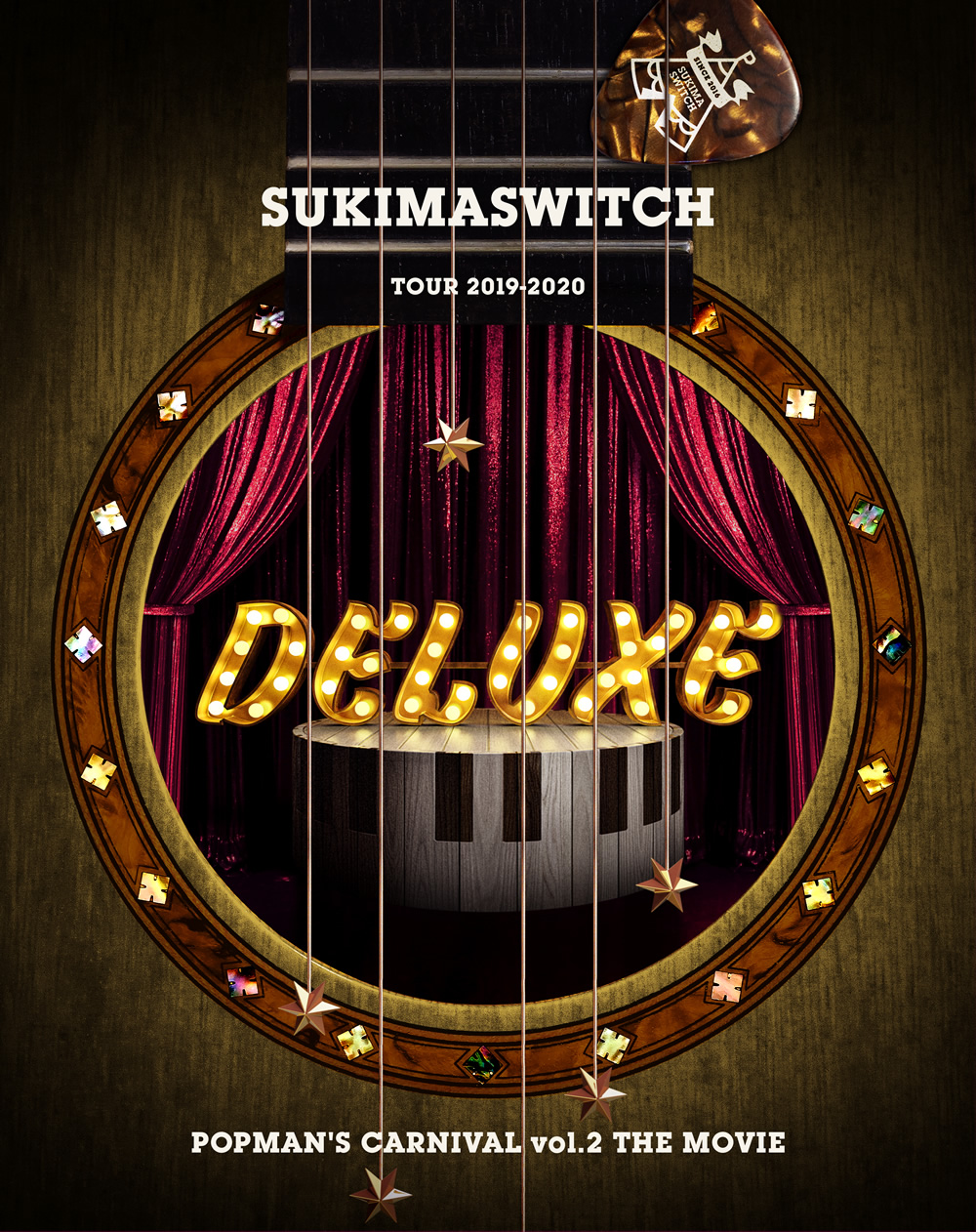 December 2019, 12 "Sukimaswitch TOUR 25-2019 POPMAN'S CARNIVAL vol.2020" containing the performance of Nakano Sunplaza will be released on October 2th!

The bonus footage includes a video of Shintaro Tokita's Birthday Surprise at the Oita performance on February 2, and a document video of the Kumamoto Audience Distribution Live.
This time, as a fan club limited "DELUXE" board, a special recording of the live "POPMAN'S CARNIVAL vol.2016" @ Kawasaki Club Citta, which was held exclusively for FC members in 0.

・The fan club limited "DELUXE board" is a limited order item.
*The fan club limited "DELUXE Edition" will be purchased at UNIVERSAL MUSIC STORE.
* Membership registration (free) is required for UNIVERSAL MUSIC STORE to purchase.
* Reservations for the fan club limited "DELUXE Edition" will start from 8:27 noon on Thursday, August 12.
It should be noted that the 9/10, but will deliver the goods to the prospect the release date to ensure the product regarding reservation of up to (Thursday) 23:59 will end the end as soon as accepts the number of shipments scheduled regard to later bookings I will. We recommend that you make an early reservation.
* Non-fan club members can also purchase the fan club limited "DELUXE Edition" by enrolling during the ordering period.Click here for new member registration: Sukima Switch Official Fan Club "DELUXE"http://www.sukima-de-luxe.com/



● Sukima Switch / POPMAN'S CARNIVAL "Vol.0 @ Club Citta Digest
https://www.youtube.com/watch?v=ot1uw0PbXQk


◆ Live BD & DVD "Sukimaswitch TOUR 2019-2020 POPMAN'S CARNIVAL vol.2 THE MOVIE" CD shop benefits ◆
At the following CD shops, customers who purchase the live BD & DVD "Sukimaswitch TOUR 2019-2020 POPMAN'S CARNIVAL vol.2 THE MOVIE" will receive special benefits on a first-come, first-served basis.
・ Amazon.co.jp… Mega jacket with product jacket design (24 cm x 24 cm)
・ Rakuten Books… Postcards with product jacket designs
・ UNIVERSAL MUSIC STORE… Christmas message card (planned to be folded in half)
*Because the number of benefits is limited, it is recommended to make an early reservation.

■ Released on 10/14 (Wed.) "Sukimaswitch TOUR 2019-2020 POPMAN'S CARNIVAL Vol.2 THE MOVIE"
Live teaser video released!

● Sukimaswitch TOUR 2019-2020 POPMAN'S CARNIVAL Vol.2 THE MOVIE Digest
https://www.youtube.com/watch?v=hhdbBqn0qmY


■ Released on 10/14 (Wed.) "Sukimaswitch TOUR 2019-2020 POPMAN'S CARNIVAL Vol.2 THE MOVIE"
Kumamoto Audience Live Teaser video released!

● Sukima Switch / Kumamoto No Audience Delivery Live Documentary 2020.2.28 Digest
https://www.youtube.com/watch?v=v-lM35mGeiA

■ Released on 10/14 (Wed.) "Sukimaswitch TOUR 2019-2020 POPMAN'S CARNIVAL Vol.2 THE MOVIE"
"Sukima Switch / Shintaro Tokita Birthday Surprise 2020.2.25 Digest" video released!

●Sukima Switch / Shintaro Tokita Birthday Surprise 2020.2.25 Digest
https://www.youtube.com/watch?v=X0KYshm0W64


[Release details]
Title: Sukima Switch TOUR 2019-2020 POPMAN'S CARNIVAL vol.2 THE MOVIE
Release Date: October 2020.10.14, XNUMX
Price: Normal Edition (Blu-ray) ¥6,800 (excluding tax) / (2DVD) ¥6,000 (excluding tax)
Fan club limited "DELUXE board" (2 Blu-ray) JPY 9,800 (tax excluded)
Item Number:
Normal Edition (Blu-ray) UMXA-10056
Normal Edition (2DVD) UMBA-10058/9
Fan Club Limited "DELUXE Edition" (2 Blu-ray) PDXA-1006/7

(Contents)

*Common to "DELUXE Edition" for regular edition and fan club limited edition
◆ DISC1 (DVD) ◆ Blu-ray
POPMAN'S CARNIVAL Theme 2

Touch the future

Guarana

Revival

Ice cream syndrome

scarlet

youth

Zlatina Luca

Christmas is coming

Andersen

Winter whistles

Star container

Beautiful

Sphere Feather

Pearly! Pearly!

Best boy

Ah Yeah !!

◆DISC2 (DVD)

Still
This Christmas

Tokyo

Kanade

BONUS MOVIE

Shintaro Tokita Birthday Surprise 2020.2.25

Kumamoto Audience Streaming Live Documentary 2020.2.28

*Only for fan club limited "DELUXE board"
BONUS DISC (DISC2)

Sukimaswitch Official Fanclub DELUXE presents TOUR 2016 "POPMAN'S CARNIVAL" Vol.0

Document

L and R

You

Me and umbrella and sunday

Hanatu

LINE

Ah Yeah !!

Guarana

Eureka

Best boy

-Encore-
Paraborava


■ CD shop bonus gift image released!

At the following CD shops, customers who purchase the live BD & DVD "Sukimaswitch TOUR 2019-2020 POPMAN'S CARNIVAL vol.2 THE MOVIE" will receive special benefits on a first-come, first-served basis.
・ Amazon.co.jp… Mega jacket with product jacket design (24 cm x 24 cm)


・ Rakuten Books… Postcards with product jacket designs



・ UNIVERSAL MUSIC STORE… Christmas message card (planned to be folded in half) * Original message and illustration
*Because the number of benefits is limited, it is recommended to make an early reservation.




■ Released on 10/14 "Sukimaswitch TOUR 2019-2020 POPMAN'S CARNIVAL vol.2 THE MOVIE"
The sleeve design of the fan club limited "DELUXE" board has been released!



* The fan club limited "DELUXE Edition" will be a limited order product until 9:10 on 23/59 (Thursday).
*Non-members of the fan club can also purchase the fan club limited "DELUXE board" by joining during the order period.
Click here for new member registration: Sukima Switch Official Fan Club "DELUXE"http://www.sukima-de-luxe.com/

December 2019, 12 "Sukimaswitch TOUR 25-2019 POPMAN'S CARNIVAL vol.2020" containing the performance of Nakano Sunplaza will be released on October 2th!

The bonus footage includes a video of Shintaro Tokita's Birthday Surprise at the Oita performance on February 2, and a document video of the Kumamoto Audience Distribution Live.
This time, as a fan club limited "DELUXE" board, a special recording of the live "POPMAN'S CARNIVAL vol.2016" @ Kawasaki Club Citta, which was held exclusively for FC members in 0.

・The fan club limited "DELUXE board" is a limited order item.
*The fan club limited "DELUXE Edition" will be purchased at UNIVERSAL MUSIC STORE.
* Membership registration (free) is required for UNIVERSAL MUSIC STORE to purchase.
* Reservations for the fan club limited "DELUXE Edition" will start from 8:27 noon on Thursday, August 12.
It should be noted that the 9/10, but will deliver the goods to the prospect the release date to ensure the product regarding reservation of up to (Thursday) 23:59 will end the end as soon as accepts the number of shipments scheduled regard to later bookings I will. We recommend that you make an early reservation.
* Non-fan club members can also purchase the fan club limited "DELUXE Edition" by enrolling during the ordering period.Click here for new member registration: Sukima Switch Official Fan Club "DELUXE"http://www.sukima-de-luxe.com/



● Sukima Switch / POPMAN'S CARNIVAL "Vol.0 @ Club Citta Digest
https://www.youtube.com/watch?v=ot1uw0PbXQk


◆ Live BD & DVD "Sukimaswitch TOUR 2019-2020 POPMAN'S CARNIVAL vol.2 THE MOVIE" CD shop benefits ◆
At the following CD shops, customers who purchase the live BD & DVD "Sukimaswitch TOUR 2019-2020 POPMAN'S CARNIVAL vol.2 THE MOVIE" will receive special benefits on a first-come, first-served basis.
・ Amazon.co.jp… Mega jacket with product jacket design (24 cm x 24 cm)
・ Rakuten Books… Postcards with product jacket designs
・ UNIVERSAL MUSIC STORE… Christmas message card (planned to be folded in half)
*Because the number of benefits is limited, it is recommended to make an early reservation.

■ Released on 10/14 (Wed.) "Sukimaswitch TOUR 2019-2020 POPMAN'S CARNIVAL Vol.2 THE MOVIE"
Live teaser video released!

● Sukimaswitch TOUR 2019-2020 POPMAN'S CARNIVAL Vol.2 THE MOVIE Digest
https://www.youtube.com/watch?v=hhdbBqn0qmY


■ Released on 10/14 (Wed.) "Sukimaswitch TOUR 2019-2020 POPMAN'S CARNIVAL Vol.2 THE MOVIE"
Kumamoto Audience Live Teaser video released!

● Sukima Switch / Kumamoto No Audience Delivery Live Documentary 2020.2.28 Digest
https://www.youtube.com/watch?v=v-lM35mGeiA

■ Released on 10/14 (Wed.) "Sukimaswitch TOUR 2019-2020 POPMAN'S CARNIVAL Vol.2 THE MOVIE"
"Sukima Switch / Shintaro Tokita Birthday Surprise 2020.2.25 Digest" video released!

●Sukima Switch / Shintaro Tokita Birthday Surprise 2020.2.25 Digest
https://www.youtube.com/watch?v=X0KYshm0W64


[Release details]
Title: Sukima Switch TOUR 2019-2020 POPMAN'S CARNIVAL vol.2 THE MOVIE
Release Date: October 2020.10.14, XNUMX
Price: Normal Edition (Blu-ray) ¥6,800 (excluding tax) / (2DVD) ¥6,000 (excluding tax)
Fan club limited "DELUXE board" (2 Blu-ray) JPY 9,800 (tax excluded)
Item Number:
Normal Edition (Blu-ray) UMXA-10056
Normal Edition (2DVD) UMBA-10058/9
Fan Club Limited "DELUXE Edition" (2 Blu-ray) PDXA-1006/7

(Contents)

*Common to "DELUXE Edition" for regular edition and fan club limited edition
◆ DISC1 (DVD) ◆ Blu-ray
POPMAN'S CARNIVAL Theme 2

Touch the future

Guarana

Revival

Ice cream syndrome

scarlet

youth

Zlatina Luca

Christmas is coming

Andersen

Winter whistles

Star container

Beautiful

Sphere Feather

Pearly! Pearly!

Best boy

Ah Yeah !!
◆DISC2 (DVD)
Still
This Christmas

Tokyo

Kanade

BONUS MOVIE

Shintaro Tokita Birthday Surprise 2020.2.25

Kumamoto Audience Streaming Live Documentary 2020.2.28
*Only for fan club limited "DELUXE board"
BONUS DISC (DISC2)

Sukimaswitch Official Fanclub DELUXE presents TOUR 2016 "POPMAN'S CARNIVAL" Vol.0
Document

L and R

You

Me and umbrella and sunday

Hanatu

LINE

Ah Yeah !!

Guarana

Eureka

Best boy

-Encore-
Paraborava

■ CD shop bonus gift image released!

At the following CD shops, customers who purchase the live BD & DVD "Sukimaswitch TOUR 2019-2020 POPMAN'S CARNIVAL vol.2 THE MOVIE" will receive special benefits on a first-come, first-served basis.
・ Amazon.co.jp… Mega jacket with product jacket design (24 cm x 24 cm)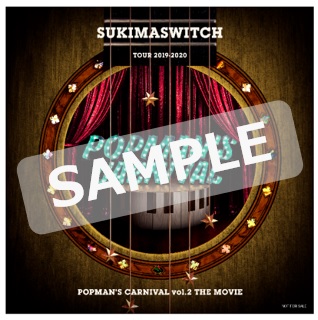 ・ Rakuten Books… Postcards with product jacket designs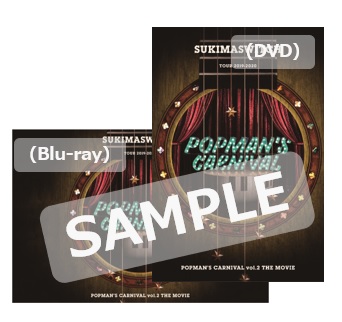 ・ UNIVERSAL MUSIC STORE… Christmas message card (planned to be folded in half) * Original message and illustration
*Because the number of benefits is limited, it is recommended to make an early reservation.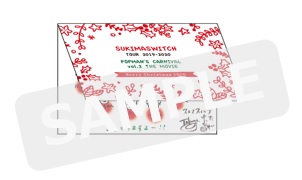 ■ Released on 10/14 "Sukimaswitch TOUR 2019-2020 POPMAN'S CARNIVAL vol.2 THE MOVIE"
The sleeve design of the fan club limited "DELUXE" board has been released!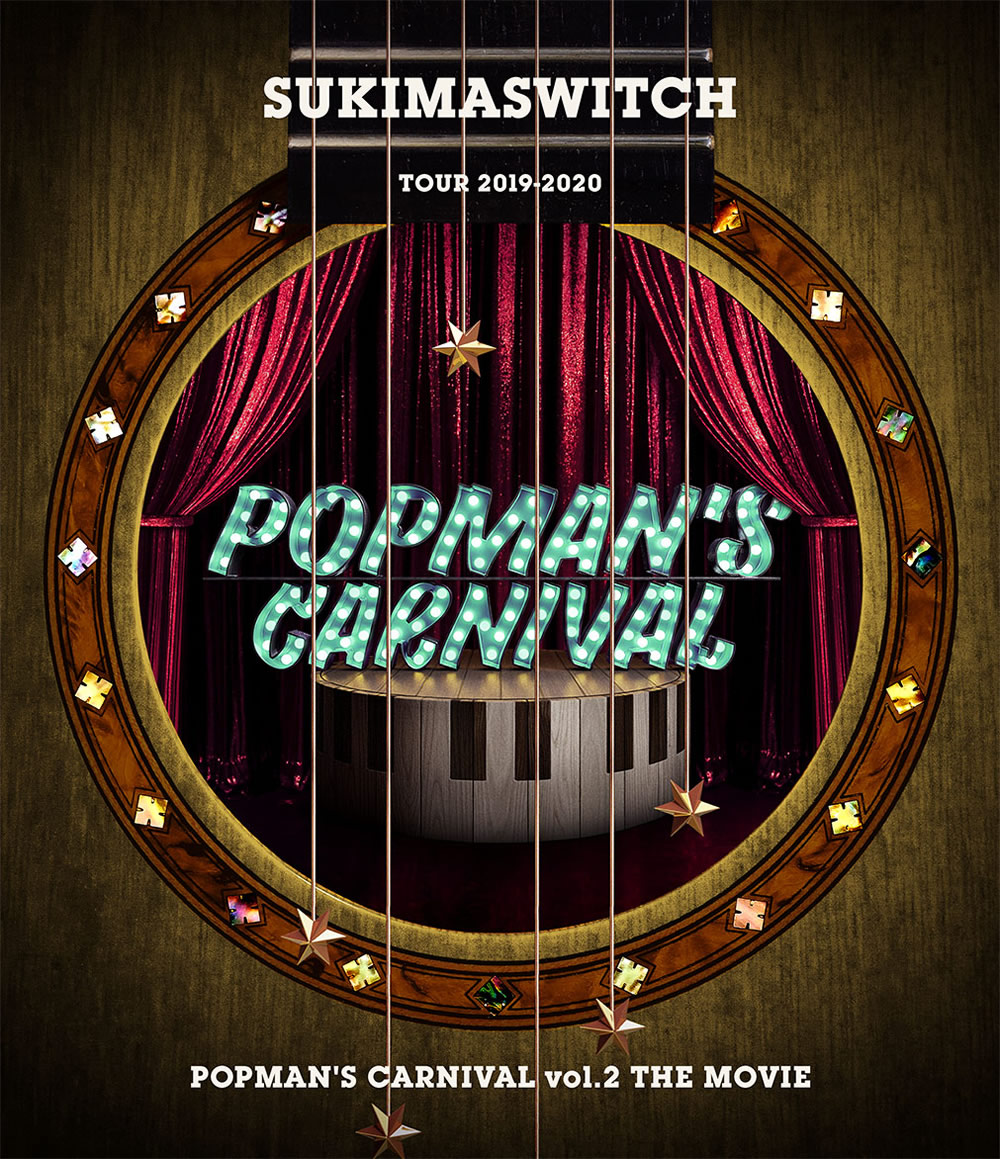 * The fan club limited "DELUXE Edition" will be a limited order product until 9:10 on 23/59 (Thursday).
*Non-members of the fan club can also purchase the fan club limited "DELUXE board" by joining during the order period.
Click here for new member registration: Sukima Switch Official Fan Club "DELUXE"http://www.sukima-de-luxe.com/