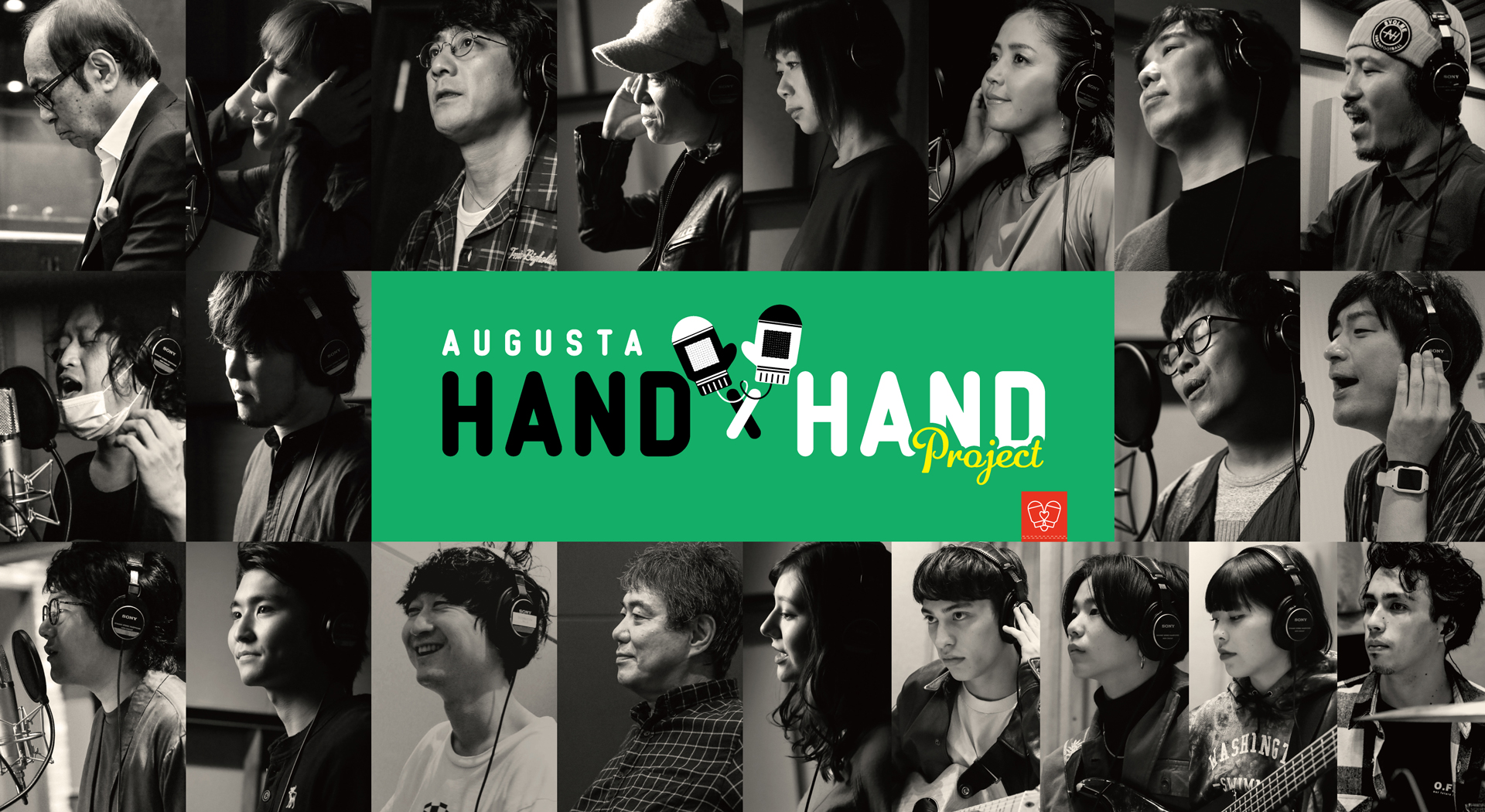 ABOUT
"Augusta HAND x HAND" is a "unique this year" project presented by Office Augusta this winter.
 In 2020, when the virus raged all over the world, we were thinking, "What can music do?"In a world where it's common to keep distance from each other to protect loved ones, can we still convey the joy of connecting with someone?Is it possible to have a gentle time even a little? ......
 It was a form of collaboration that emerged in such a situation.As you know, at the annual event "Augusta Camp" sponsored by the office, sessions between musicians are held every year, and it has been well received by many people.When I thought about the expression of "connection" that is unique to us, I wanted you to see that part again.

"Augusta HAND x HAND" has come to fruition in two forms: a CD containing the collaboration songs produced for this time, and a distribution program that shows the songs.The theme of the project is "Hands that connect the future together."I want to communicate with each other so that each other's hands overlap, and to confirm the future we will spend together-that is the idea.
 On the other hand, from a different point of view, this can be said to be an "extended hand" from Office Augusta toward you.
 Once again, the future where we can connect with music
 We hope that you will hold your hand back.
GOODS

"Augusta HAND x HAND"
Official goods



Will be sold at!
Items made of fluffy material and candles with message cards from artists, which are perfect for the coming cold season ...
We have a wide range of warm items that will make you feel close to "Augusta HAND x HAND" at home or outside.
Sales start:11/23(Monday holiday) 12: 00 ~
HAND x HAND logo T-shirt

Mixed gray / white
(S / M / L / XL)

¥3,500

All You Need Is Love Song T-shirt

White apricot
(S / M / L / XL)

¥3,000

HAND x HAND Mokomoko Wear

(One size)

¥7,800

HAND x HAND fur bag

¥3,200

HAND x HAND knit hat

¥3,500

HAND x HAND Mokomoko Mask

(M / L)

¥1,500

HAND x HAND
Cup sleeve key chain

¥1,700

HAND x HAND cushion

¥3,000

HAND x HAND candle

¥1,500

HAND x HAND Yarn petit miscellaneous goods lottery

¥1,300

HAND x HAND Shoes Gift Box Set

¥3,000